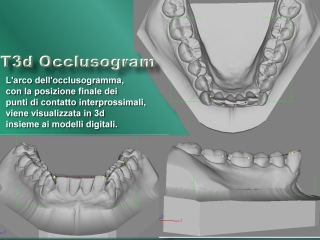 T3D Occlusogram

T3DO uses now digital models and allows them to create a real 3d orthodontic treatment plan. This software goes far beyond the classical occlusogram described by Marcotte and Burstone, even if its 2d procedure, still possible, is based on the same principles. See a video introduction.
License Prices:
1st Time  (Includes Online Course)
1 year 300 CHF 
3 years 500 CHF 
Renewals 
1 year 160 CHF
3 years 360 CHF
Please contact This email address is being protected from spambots. You need JavaScript enabled to view it.om to place an order.
T3D Occlusogram
How to get the latest version of the programs



T3DO uses now digital models from Ortolab and allows to create a real 3d orthodontic treatment plan. This software goes far beyond the classical occlusogram described by Marcotte and Burstone, even if its 2d procedure, still possible, is based on the same principles.

Integrated with DDP models it gives the possibility to create an automatic setup consistent with your treatment plan.

 

Full License 990€   

For orders, please contact This email address is being protected from spambots. You need JavaScript enabled to view it.
In this version, the final arch of the occlusogram will be included in the original digital model.
The latter becomes at the same time an initial orthodontic record and a 3d VTO!  T3D Occlusogram in its 2d procedure combines occlusal view and lateral cephalometrics:

In its 3d procedure, more data from the lateral and front view of the dental casts are acquired in order to produce a real 3d occlusogram arch.
See a video presentation by Dr. Giorgio Fiorelli
How to get the latest version of the programs